Turkey And Azerbaijan Have To Find Ways To Collaborate For Creating Their Own Medical Technologies
Interview With The Neurosurgery Expert Assoc. Dr. Mehmet Osman Akçakaya, MD, Associate Professor in Neurosurgery at Demiroglu Bilim University, Turkiye/ Group Florence Nightingale Hospital, Istanbul.
AT: We see the bounds of brotherhood between Azerbaijan and Turkey getting stronger in every sector? We wolud like to ask your opinion about the recent developments in medical sector?
I think Turkey and Azerbaijan are two states with one nation. Our bounds are like brotherhood really. This is my sincere opinion. As I explained above we have good human resources in Turkey and Azerbaijan is also quickly developing due to close close collaboration and coming of many Azerbaijani colleagues for training in recent years. But the important thing is that we have to start with technological innovations and production of high-tech medical devices. Turkey and Azerbaijan have to find ways to collaborate for creating their own medical technologies. We have to look for opportunities for common medical investments. In near future, we will make robot aided surgeries or radiation therapies routinely. We have to be ready for this future and became a playmaker in the sector. This is only possible with investment to research and development.
AT: There is a great progress in Turkey by means of Healthcare Services. What is the reason for that in your opinion?
I think it is based on the Mustafa Kemal Atatürk's University Reform in 1933. With this reform Turkey has a new understanding of education. The biggest impact came in that era with great German Jewish doctors who escaped from Nazi Germany before the World War II. Experts such as Erich Frank, Rudolph Nissen, Werner Lipschitz, Felix Haurowitz, Philipp Schwartz, Hans Winterstein and Siegfried Oberndorfer worked in Istanbul University and Ankara University Medical Faculties. They all have many efforts on the foundation of modern medical education in Turkey. Thanks to these efforts the Turkish medical students and doctors educated very well. And they passed the torch to the next generations. This well educated human resources is the reason of  the success of Turkish healthcare services and medical sector of Turkey. Of course the globalisation of the world, communication, big private sector investments as well as the current goverments policies for medical tourism played a big role recently. However without the university reform this progress cannot be achieved.
AT: Since when the Gamma Knife treatment is available in Turkey?
The first treatment with Gamma Knife device worldwide was performed in 1968. The first Gamma Knife treatment in Turkey was performed in 1997. Our Gamma Knife center in Florence Nightingale was established in 2011.
AT: Dr. Akçakaya what is Gamma Knife Radiosurgery?
"Gamma Knife Radiosurgery is a kind of radiation therapy, which can deliver a very precise and high dose radiation to a target anywhere within the skull without harming normal tissues. About 200 tiny radiation beams focus just on the target but they came from seperate trajectories. It can deliver higher doses of radiation compared to conventional radiotherapy to deep seated brain lesions or lesions on the eloquent areas, for which open surgery may constitute a surgical risk. Also it is a very easy solution for pateints with additional chronic and sever diseases. It is usually a one day treatment that has been done in one session in outpatient fashion."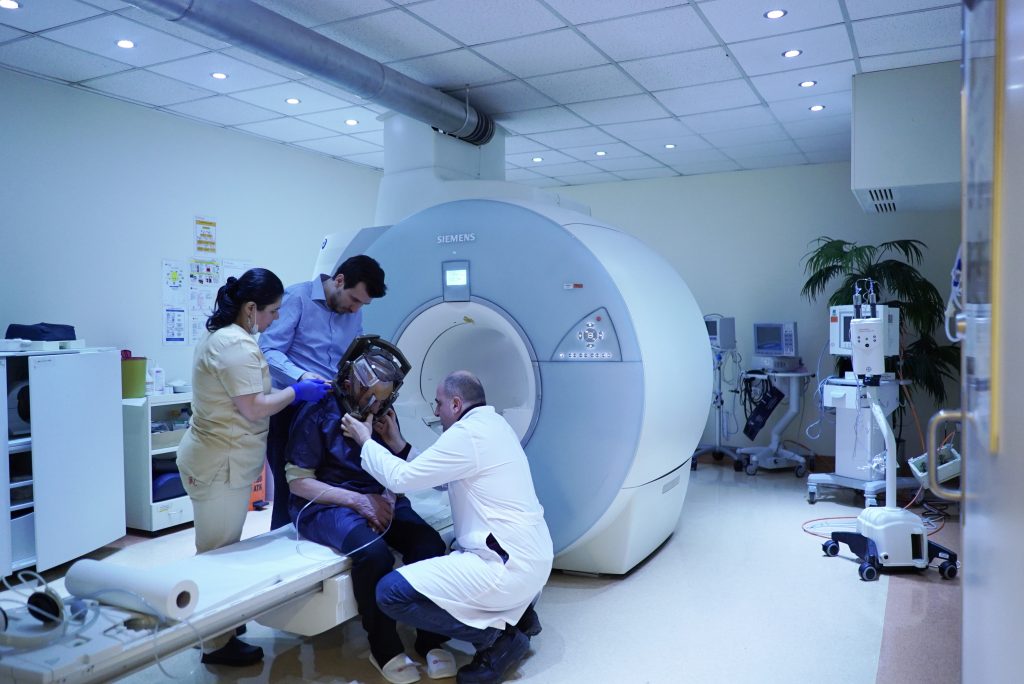 AT: For what kind of disesases it can be used?
"It can be used for benign tumors of the brain such as meningiomas, schwannomas, glomus jugulare tumors or pituitary tumors (hypophysis tumors), for metastatic brain tumors, for malignant brain tumors, for vascular disorders such as arteriovenous malformations and cavernomas, for functional disorders such as trigeminal neuralgia, hemifacial spasm, essential tremor or Parkinson's disease. Besides it can be used for nasopharyngeal tumors and uveal melanomas. The important thing is that the size of the lesions: It can be maximum of 3.5 cm diameter. For greater lesions this treatment is not appropriate."
AT: What are the risks of this treatment?
"Compared to open surgery it has minimal risks and usually these risks are temporary. The patients may experience some fatigue, or a tingling feel of scalp. It may result in minimal hair loss rare occasions. In long term it may cause brain swelling which can be easily managed with medications."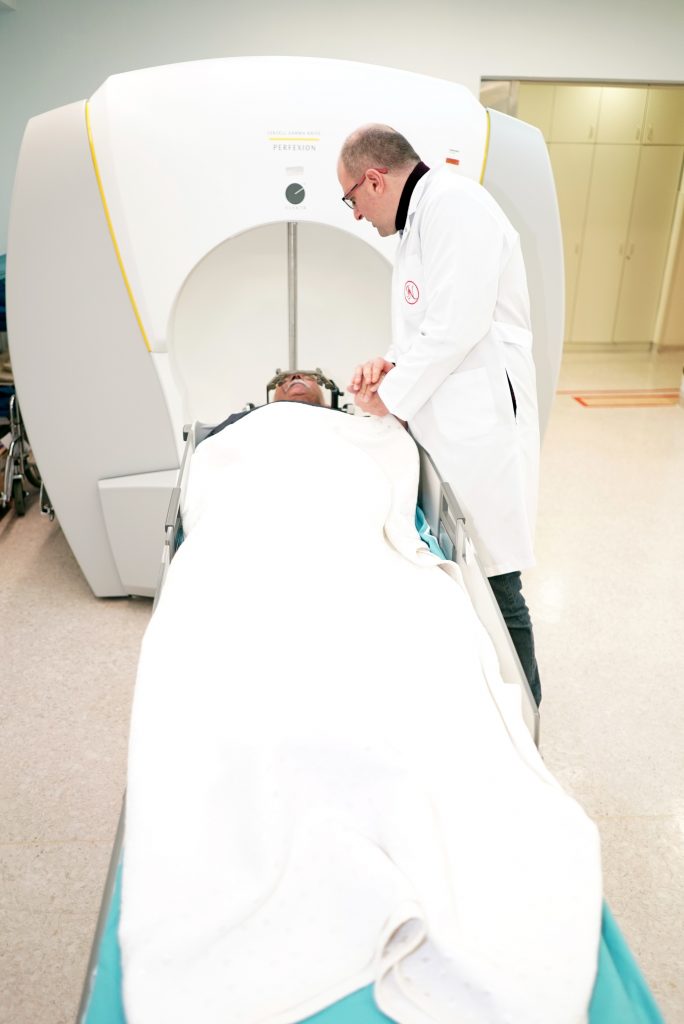 AT: How it is performed?
"We put a metallic frame on the patients head with local anesthesia. Then a special MRI is performed with that frame. The MR images are taken to the planning computer. While the patient is waiting in his/her room, we create a treatment plan. Then the patient is taken to the treatment room, where he lies on a moving couch that is attached to the Gamma Knife device. The device create slight movements of the couch, moving patients head to the desired position according to treatment plan. There are no sounds, the patient would not feel the radition and he can talk to us via microphones and cameras. The duration of treatment depends on the size, number and the locations of the lesions, it may differ from twenty minutes to 4-5 hours. After the treatment is finished the metallic frame is removed. The patient stays in the hospital for about two or three hours and gets medical treatment. The patient can eat and drink after the procedure. He/she can travel the same day or the next day if needed even with airplane withou any restrictions."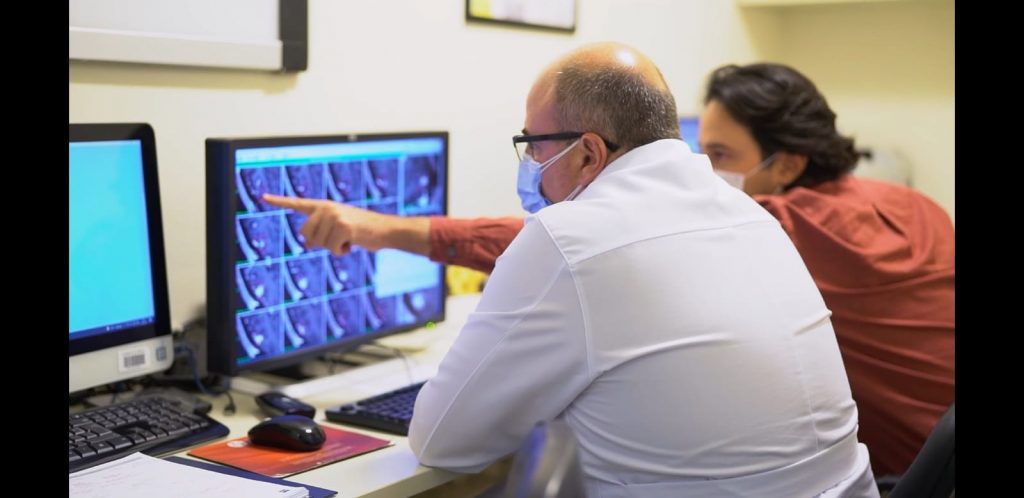 AT: How much time is needed to see the effects of the treatment?
"For benign tumors we have to wait for six months to see the first effects. But the treatment efficacy increases as time goes by. We follow up our patients for years. In 2-3 years the benign tumors shrink significantly. For malignant tumors and functional disorders the treatment effects can be seen after the first month. We follow up these patients very close on monthly basis. For vascular disorders it starts to show the effects 3 months after the procedure, but the real treatment results can be seen 2 years after Gamma Knife radiosurgery. In case needed the treatment can be repeated easily."
Dr. Mehmet Osman Akçakaya was born in Istanbul in 1980. After finishing Istanbul Erkek Lisesi, he graduated from Istanbul University, Istanbul Medical Faculty in 2005, where he also finished his neurosurgery residency afterwards in 2012. In 2017 he became an associate professor in neurosurgery. He has been serving as a neurosurgeon in private sector since the last eight years. He had the chance to work with experts in their fields. He worked with Professor Shimon Rochkind in 2010 in Tel Aviv, Israel for four months, a worldwide leader in peripheral nerve surgery and with Professor Joachim Krauss, who is the honorable president of European Stereotactic and Functional Neurosurgery, in Hannover, Germany in 2017-2018 for about seven months. Dr. Mehmet Osman Akçakaya is focused on functional and stereotactic neurosurgery (mainly in movement disorders Parkinson's disease etc. and gamma knife radiosurgery), neurooncology (surgery of complicated brain tumors) and brachial plexus-peripheral nerve surgery.
He is married to Nihan Hande Akçakaya, who is an associate professor of neurology and has a PhD in genetics, and they have two children.
He is author of many academic papers and national-international published book chapters.
Dr. Mehmet Osman Akçakaya is working in Florence Nightingale Hospital in Istanbul since 2019. He has a great experience in Gamma Knife Radiosurgery, by treating hundreds of patients with various pathologies.